Owned and operated by Chuck Wilson since 1981, The Beaverton Sub Station serves up what you crave. It's a place where the sandwiches are kept simple - and delicious - the staff are always smiling, and the coffee is still only 25 cents. The Sub Station, located in the heart of Beaverton, is the favorite lunchtime getaway for nearby businesses, City Hall staff and shoppers alike. People even make the longer commute just to get the food they've grown to know and love. All the regular sandwiches are $5 or less; or for heartier appetites, the subs are available in 12" sizes for less than $10. Be sure to try The Clancy, a champion of sandwiches, loaded with meat, two cheese and plenty of fresh veggies. Former Chicagoans, Chuck and his wife, Gina, bought the Sub Station shortly after moving to Beaverton, and it's been a cultural landmark ever since. "I'm just a Beaverton kind of guy" says Chuck, "I like everything about the town." So whether you're in the neighborhood, or further out, pull in to the Beaverton Sub Station and pick up your favorite sandwich today.
---
Beaverton's Sub Master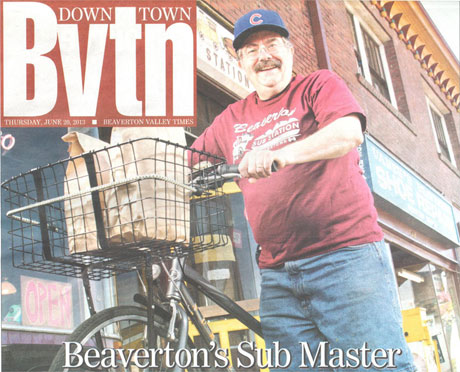 By Nicole De Costa - Beaverton Downtown Times
While the sandwiches are good, perhaps the best ingredient utilized at Beaverton Sub Station is owner Chuck Wilson. You'd think after 32 years in business, Wilson might be craving something over than a sandwich for lunch. So what's his favorite sandwich off the menu? "The mistakes," he said. "You know, the one that wasn't supposed to have mayo but we accidentally made it with mayo. I'll eat that one."
But you can't go wrong with anything off the menu, or the price point - around 5$ for most stacked sub sandwiches. "When I first bought the place, I was doing 25-cent coffee, and it was crazy back then," Wilson said of the price of coffee that remains the same. "It must be insane now." Wilson said people always ask him how many sandwiches he thinks he makes in a day, and he always replies with, "more than most people." But with the popular Clancy - roast beef, turkey or ham, avocado, provolone cheese, cheddar cheese, tomato, green pepper, onion, lettuce, mayo and spices - there are ways to mix it up. The Smitty - turkey, cream cheese, cheddar cheese, cucumber, tomato, lettuce, mayo and spices - was named after the late Larry Smith, a prominent Beaverton local jeweler.
And while Wilson said he's originally from Chicago, he feels right at home in the heart of Beaverton with this shop adorned with Chicago Cubs gear and trains. To stay further connected with the community, the shop offers bike delivery within a half mile of the shop and is participating in Beaverton's popular First Friday activities through October. Put on by the Beaverton Downtown Association, First Fridays bring patrons to downtown Beaverton to explore the shops, hear some tunes and enjoy the atmosphere. Wilson's shop will play host to local authors having book signings.
"I try to make a difference," he said. "I'm just a Beaverton kind of guy. I get all of our sandwich rolls from Beaverton Bakery. And this guy brings patrons from all around who regularly frequent his shop. "The food is great," said Cody Whaley on why he visits. "It's the finest sub shop - and it's him," Whaley said, pointing to Wilson behind the counter. Ted and Nancy Chilless' 5-and-a-half year-old grandson, Connor, always looks forward to ordering his favorite One Car Turkey sandwich. "He gets a look on his face like it's heaven," Nancy Chilless said. And then he looks up and says, "This is the best sandwich I've ever eaten."
Through the praise, Wilson remains humble. And while he said he works with a great team, don't expect the owner to retire anytime soon. "Why?" he said. "I like it, and I'm having fun. You never know, someday we may increase the price of a cup of coffee to - maybe - 26 cents." Wilson grins, like he knows he's being funny. And then he glances back to the patrons in line and starts helping the next customer, who he knows by name - and sandwich. Beaverton Sub Station is located at 12448 S.W. Broadway in Beaverton. For more information and to view the menu, just visit
beavertonsubstation.com/menu
.
---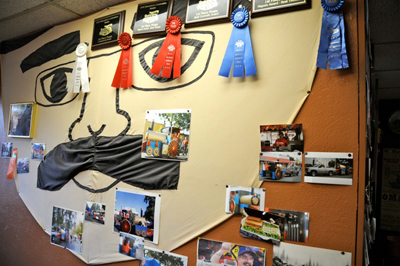 Chuck Wilson, the richest man in town
By Steve Duin, The Oregonian
It's not the Clancy or the Smitty, the signature items on the sandwich board, unapologetic meat wagons that remind you of the ol' entry from "Wiley's Dictionary" in the B.C. comic strip: Sub stance -- A position one assumes prior to lowering a 2-foot salami sandwich into his gullet. It's not the railroad tracks, 30 feet behind the kitchen windows, or the railroad memorabilia, a collection of kitsch clinging to every wall and rafter, singing the praises of the Southern, the Union Pacific and the Lahaina-Kaanapali, the sugar-cane train. And it's surely not the exotic Old Town Beaverton location, wedged as the shop is between such destination resorts as Vanek's Shop Repair, the Studio barber shop and Beaverton Blueprinting.
No, the lasting appeal of the Beaverton Sub Station is something else altogether. It's the power of the individual. It's the warmth of the familiar. "It's something that's remained constant in a world that has a lot of change," Gina Wilson said. And over one more lunch Saturday, the friends of the Sub Station will gather 'round Chuck Wilson, his wife and his ever-present Chicago Cubs' cap, and celebrate the shop's silver anniversary. For the last 25 years, Chuck Wilson has been assembling and serving up the best deli sandwiches in town, knowing full well that most of his customers drove past four chain stores on their way in and couldn't find a decent parking spot anywhere on Southwest Broadway.
Yet the lunch crowd -- the City Hall bureaucrats, the strip-mall refugees, and Jeff, David and Robert from Outback Automotive -- keeps coming back, trusting they'll get their money's worth in pastrami and camaraderie. As Nike historian Scott Reames says, "I like Chuck, love his food and respect the hell out of people like him who can successfully manage single storefront businesses, while the rest of the world becomes increasingly homogenized, franchised and sanitized." A child of Chicago's Oak Park and Wrigley Field, Wilson landed in the Portland area in October 1980 and bought the Sub Station five months later. He's never thought about raising the price of a cup of coffee - 25 cents -- and he's never thought about going anywhere else.
"I'm just a Beaverton kind of guy," Wilson says. "I like everything about the town. I work hard . . . and, I don't know, I guess you could say I'm rich in the George Bailey sense of the word." Rich in friends. Rich in purpose. Stunned by his blessings. "He's very much a people person," Gina says. "He likes the customers. He says hello to them by name. He loves having someone come through the door after two years and being able to say, 'You don't like mayo, do you?'"
Wilson has a degree from the University of Illinois in comprehensive design, and the interior of the Sub Station seems designed to make a mockery of it. The menu and the tables are coated in a garish canary yellow. Every train souvenir that's ever arrived through the mail slot has been tacked awkwardly on one wall or another, and that Cubs cap may be older than Ernie Banks. But none of that registers or truly matters. What matters is that the deli meat is piled thick and rich, the sandwich prices only go up a quarter every five years or so, and the man behind the counter is utterly at peace. "I'm happy," Wilson says. It shows.
And that's precisely what keeps everyone coming back for the Clancy, the Smitty and the sound of their name when they come through the door. I don't know how many will come through it Saturday, but Wilson has ordered 288 souvenir mugs. When his friends raise those mugs on high, I hope they sing "Auld Lang Syne" as a passing train rattles the windows.
---
Deals on wheels
By Nancy Townsley, The Times
Served at his restaurant or delivered by bicycle, Charles Wilson's Beaverton Sub Station sandwiches are still good and affordable after all these years. It wouldn't be much of a stretch to say that Charles Wilson is doing his part to keep local government running smoothly. Most weekday mornings around 11, Wilson dispatches several of his special packages - some days as many as a dozen - on a half- mile bicycle delivery route to Beaverton City Hall. The brown paper sacks contain noontime nirvana for city employees whose cell phones have the Beaverton Sub Station on speed dial. By that time of day, Wilson has already been laboring at his business on Southwest Broadway Street for at least three hours. Wearing an apron and a blue-and-red Cubs baseball cap while slicing bread, cheese and meat for the masses, the former Chicagoan dishes up what his repeat customers crave: a hearty meal in a pleasant atmosphere at a fair price. At Wilson's shop, they get exactly that.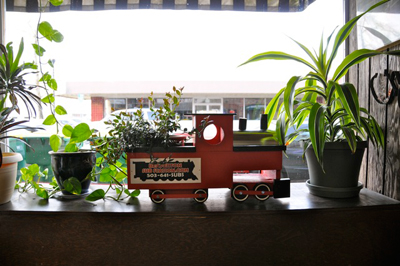 His East Coast-style sandwiches, made with French bread from Beaverton Bakery and seasoned with oil, vinegar and oregano, hit the spot every time. With dozens of chic, nouveau cuisine-style eateries cropping up around town, it's a good thing Wilson is looking out for the working people. "I keep it simple. I cater to the regular crowd," Wilson said with a grin. "That's what I'm about." For the good-natured, mustachioed father of two, supplying a satisfying lunch, a kind word and an inside joke or two - all for under $8 - is nothing new. He's been making sandwiches out of the Beaverton Sub Station for nearly a quarter century. "What I like most is all the friends I've made over the years," said Wilson, a transplanted restaurateur who bought the business, which sits smack-dab in the middle of downtown, in 1981. "They'll probably bury me right in this spot because I just love Beaverton." "I'm a Beaverton kind of guy."
Time has flown for Wilson and his family since they moved to a small spread just west of Highway 217 and took over ownership of the shop. His wife Gina has taken her turn behind the counter, as have daughters Zoe, 12, and Tori, 19. "It's definitely been a family affair," Charles said. "We've made all the important decisions together." Gina, an accomplished paint and sculpture artist, still occasionally lends a hand. For the girls, academics take a front seat - Tori is a student at Portland State University, and Zoe will be a seventh-grader at Whitford Middle School this fall. With folks streaming in six days a week for Beaverton Sub Station's signature sandwiches, among them "The Clancy," a popular vegetarian delight, Wilson has had to call in some reinforcements. He's beefed up his payroll to six employees over the years, but it's always the boss himself who watches over what goes on in the kitchen.
"I'm here pretty much all the time, except when I'm on the baseball field," said Wilson, who's known as the "Pitchin' Magician" for the Beaverton Sub Station men's league softball team. His staff has participated in parades, showed up at community events and filled in for each other when one went on maternity leave or another spent a term away at school. "It's kind of funny how we all keep coming back," said Linda Washburn, a cook and the business' main sandwich maker for 14 years. Her son Jeremiah has been delivering sub sandwiches by bicycle for three years. "Charles is a great guy to work for - we all have fun together here."
Washburn, who typically arrives at 7:30 a.m., enjoys the regular customers. Some of them started coming to the shop when they were students at Beaverton High School, which is just a couple of blocks away. "The high school used to almost completely empty out at lunchtime," she recalled. "We'd be swamped with students." Jessica Larson, who now works for Wilson, was one of those teenagers. "They closed the campus my junior year, so we had to skip class to come here," she said. Later on, she applied for a job - and Wilson remembered her. "I've always tried to help kids out when I can," he said. He even hired her sister Andrea after Jessica came on board. "There isn't a better group of people anywhere," Wilson said of his crew. Besides sandwiches, Wilson added soups, salads, espresso and ice cream to his menu as time went on. His original restaurant has nearly doubled in size, but it still carries the same railroad-and-trains theme it had when he bought the place from Pat Mathewson.
"It's just worked out that way," said Wilson, pointing out railroad crossing signs, old lanterns, faded photographs of train depots and more. Customers still stop by to donate train-related memorabilia to the restaurant. "I'm really honored that so many things have been donated over the years." Daily bike deliveries, all within a 1-mile radius of the shop, are made mostly on older, classic Schwinns. Besides City Hall, regular destinations include Maryville Nursing Home and Kuni Cadillac. Thumbing through newspaper clippings from the early 1980s, one showing a photo of Wilson slicing sub rolls behind the counter, the boss man faked a grimace. "We probably had a healthier menu 20 years ago," he deadpanned. "I was thinner then."
---
Beaverton Subs is THE BEST
Unbelievable sandwiches...loaded with meat, veggies, cheese. I have never had a sandwich anywhere that compares to the Turkey Clancey. The turkey, avocado, green peppers, cheese, spices and just an incre- dible combination. I use to work in Beaverton but no longer do. I drive 14 miles just for this sandwich...it is well worth it! Way to go Chuck!!!
Pros: the food, the sandwiches, Chuck, the owner Overall user rating: Highly Recommended
Posted by rainyday on 05/20/2005
---
Read our reviews on Yelp
©2022 Beaverton Sub Station, 12448 Southwest Broadway Street, Beaverton, OR 97005 • 503-641-SUBS(7827) • All Rights Reserved